"New Economic Map" Initiative
---
One of the most significant issues regarding Korean Reunification is addressing the economic aspects of the Korean Peninsula. Korea intends on paving the way toward economic cultivation and laying the foundation for economic unification by resuming inter-Korean economic cooperation, designing a new economic map for the Peninsula, and looking forward to a single market for the two Koreas.
source
The proposal focuses on starting new growth drivers along the Korean Peninsula by constructing three economic belts and essentially connect them to the countries up North such as Russia or China:
Environment-Tourism belt on the DMZ – connecting Mt. Seorak, Mt. Geumgang, Wonsan, and Mt. Baekdu.
Industry-Logistics and Distribution-Transportation belt in the West Sea – connecting Seoul, the Gaesong Industrial Complex, Pyeongyang, Nampo, and Sinuiju.
Energy-Resource belt in the East Sea – jointly developing Mt. Geumgang, Wonsan-Tanchon, and Cheongjin-Rason, then linking Russia with the east coast of Korea.
Korea plans on coming up with ways to cooperate for unifying into a single market for the two Koreas through a public-private partnership network, and if the conditions are met, be able to implement market cooperation in phases. There are also plans to reimburse the companies that suffered losses in these inter-Korean economic cooperation projects. Expectations include starting the beginning of a foundation for job creation, unification, and an empowered economic growth through inter-Korean economic cooperation.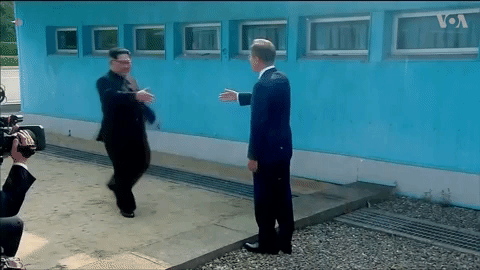 What is the One Belt One Road Initiative?
---
source
The One Belt One Road Initiative is a development strategy proposed by the Chinese government that pays particular attention to bringing together the Eurasian countries and encourage cooperation and cooperative efforts between them, especially China, the Maritime Silk Road, and the Silk Road Economic Belt. Initially unveiled by Xi Jinping in late 2013, The Belt and Road Initiative is one of the largest infrastructure and investment projects, covering more than 68 countries, including 65 of the world's population, and 40% of the global GDP as of 2017. This project is deemed controversial because even though China considers the initiative as a chance to increase regional connectivity and look forward to a brighter future between all countries involved, critics consider it a ploy that pushes China into taking on a bigger role, with a China-centered trading network.
"Indeed, B&R is a connectivity of system and mechanism, (Kuik 2016). To construct a unified large market and make full use of both international and domestic markets, through cultural exchange and integration, to enhance mutual understanding and trust of member nations, ending up in an innovative pattern with capital inflows, talent pool, and technology database." – Linda Jakobson, China Daily.
Why is China building a new Silk Road?
---
That is a great question, and it actually makes sense why they would be trying to create it again. The Silk Road itself was an ancient network of trade routes that connected the East and West, therefore being central to cultural interaction between them for centuries. Including economic trade, the Silk Road was a route for cultural trade among the civilizations along its pathways. The Silk Road itself made China an economic superpower of the trade route, therefore reincarnating it would imply a further increase in the economic strength of China.
In addition, China has an industrial overcapacity, primarily in steel manufacturing and heavy equipment, and the trade route would serve as an outlet. Opening new national trade markets would serve as a fail-safe in case the domestic market slows down.
"It is not an economic project, it is a geopolitical project – and it is very strategic." – Nadege Rolland, and analyst at the National Bureau for Asian Research. Source
What do these two have to do with one another?
---
source
As you take a closer look at the proposal for the Silk Road reincarnation, Korea is uninvolved with any of the trade routes that are shown. In the event that Korea reunifies, there is a big possibility where the economic strength of the country multiplies substantially, therefore providing some use to the national trade around the world. Moon Jae-In's proposal on the trans-continental transportation system can potentially connect with this existing One Belt, One Road Initiative, therefore establishing Korea as an important entity to world affairs.