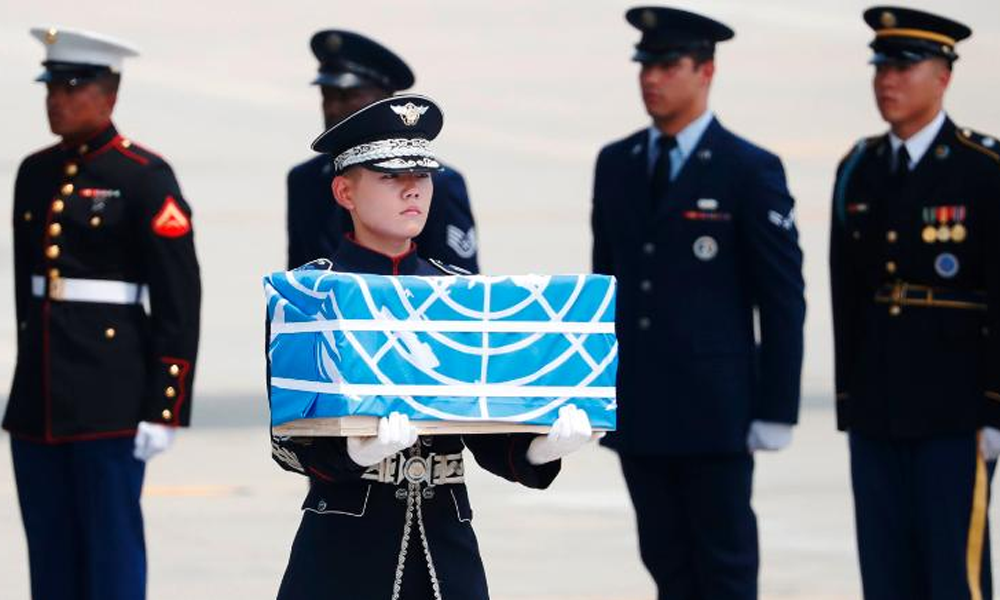 source
The Frozen Time which Melts Slowly / 천천히 녹는 얼어 붙은 시간
---
Very recently, North Korea has transferred the remains of 55 dead U.S. soldiers that were killed in the Korean War that occurred around 65 years ago. They are being transferred out from Wonsan, North Korea on a U.S. Air Force aircraft which will fly to Osan Air Base, which is just south of Seoul.
---
아주 최근에 북한은 65 년 전 한국 전쟁으로 사망 한 55 명의 미군 사망자를 옮겼습니다. 그들은 서울의 남쪽에있는 오산 공군 기지로 날아갈 미 공군기에 북한의 원산에서 송환되고있다.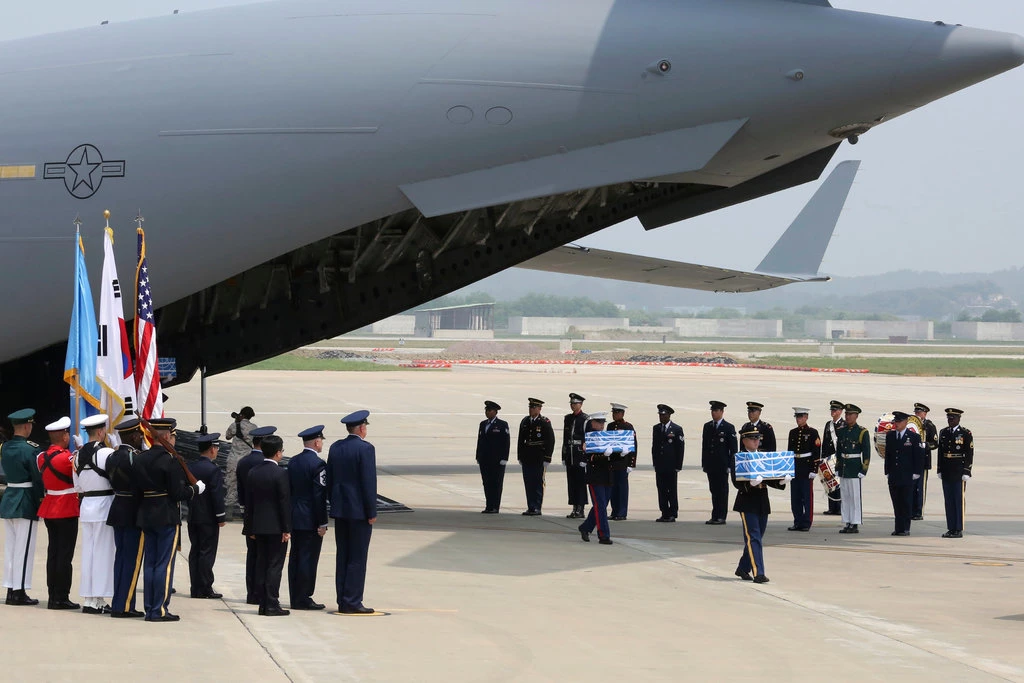 source
Improvement in United States and North Korean Relations / 미국과 북한 관계 개선
---
This whole development is one of the first steps that both the United States and North Korea are taking to establish diplomatic ties with one another. This has likely started due to a continuation of a string of positive momentum, where there has been a consistent improvement in relation between North Korea and South Korea. Beforehand, the efforts to bring those remains back to the United States were difficult because there was a constant tension between the two countries, and a severe lack of diplomatic relations.
---
이 모든 발전은 미국과 북한이 서로 외교적 관계를 맺기 위해 취하고있는 첫 걸음 중 하나이다. 이는 북한과 남한의 관계가 지속적으로 개선되고있는 긍정적 인 모멘텀이 지속됨에 따라 시작된 것으로 보인다. 사전에 양국 간의 지속적인 긴장과 외교 관계의 심각한 결핍이 있었기 때문에 그 유골을 미국으로 가져 오기위한 노력은 어려웠다.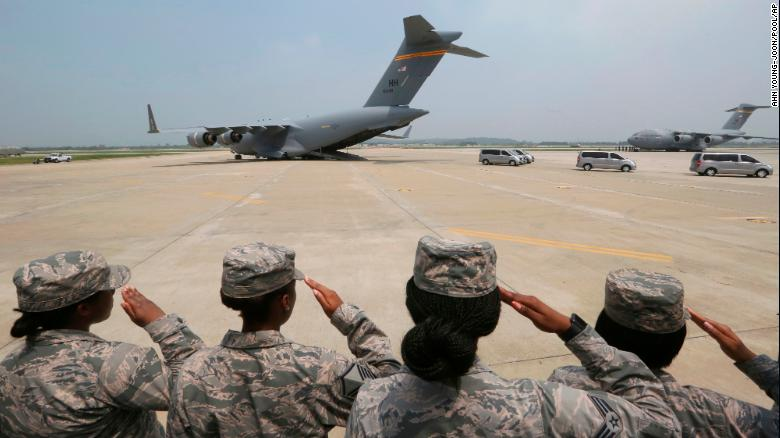 source
Implications for a Unified Korea / 통일 한국에 대한 시사점
---
This improvement in relations between the United States and North Korea would overall be a beneficiary to the reunification situation between North Korea and South Korea, primarily because there should be an overall ease of tension between the outside countries of power and Korea.
---
이러한 미국과 북한의 관계 개선은 북한과 한국 간의 통일 사태의 수혜자가 될 것입니다. 이는 주로 외부 국가 간의 긴장 완화가 필요하기 때문입니다.
The only speculative question that I have now is that currently, the United States primarily wants North Korea to completely denuclearize. This only makes sense in the context that North Korea will remain an authoritarian state. In the case that North Korea and South Korea reunify, what would the United States think about this unified nation having its own nuclear program? North Korea is a land that is rich with uranium and nuclear energy, which can turn into quite a scary country when coupled with South Korea's speed of economic growth and development.
---
제가 당면한 유일한 의문은 현재 미국이 북한을 완전히 비핵화하기를 원한다는 것입니다. 이는 북한이 권위주의 국가로 남아있을 것이라는 맥락에서만 의미가있다. 북한과 한국이 통일되는 경우, 미국은이 통일 국가가 자체 핵 계획을 가지고 있다고 어떻게 생각할 것인가? 북한은 우라늄과 원자력이 풍부한 땅으로, 한국의 경제 성장과 발전 속도와 함께 무서운 나라로 변할 수있다.
News Article Links / 뉴스 기사 링크
---